Blog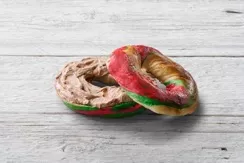 Get ready for the Holidays with Kettlemans!
The holiday season is the best time of the year for many, and at Kettlemans, we love to spread joy through our delicious bagels and cream cheeses. This year, we have brought back our famous Candy Cane bagel and Gingerbread cream cheese, available in-store, through our app, or on UberEats and Skip The Dishes.
At Kettlemans, we believe that the holiday season is all about coming together with friends, family, and loved ones. For close to 30 years, we have been a second home to many and have brought people together, whether they are grabbing a quick bite on the go or sitting down and catching up with old friends.
Our warm and welcoming atmosphere is perfect for enjoying the holiday season.
Our three-coloured bagel is a festive way to embrace the season, with its red, white, and green doughs rolled together in a swirl that represents togetherness. And the candy cane bagel, with its peppermint notes, pairs perfectly with our homemade gingerbread cream cheese that tastes like a freshly baked cookie.
From December 1st to December 31st, come and visit us and try our holiday treats for yourself. Don't forget to tag us on social media to be featured on our page.
We hope you have a wonderful holiday season and that Kettlemans will be a part of it. Come and celebrate this special time of year with us.